I have already got some great qualitative feedback from interviews with IBD patients to better understand their struggles. I found that the most debilitating symptom that people suffering from Inflammatory Bowel Disease is the fatigue. As my project develops I wanted to gather more quantitative feedback regarding the fatigue more specifically. This will also be able to show me some strong information about the subject to help strengthen why there is such a need for this project.
I build this survey on SurveyMonkey and reached out to as many people I know with the disease, as well as sharing with IBD Facebook groups. The results can be found here. Although I have only received the max number of responses from my free account here, I have received 29 responses from a range of different sources. That gives me quite a variety of people and sufficient enough for me to be able to make some assumptions from these results.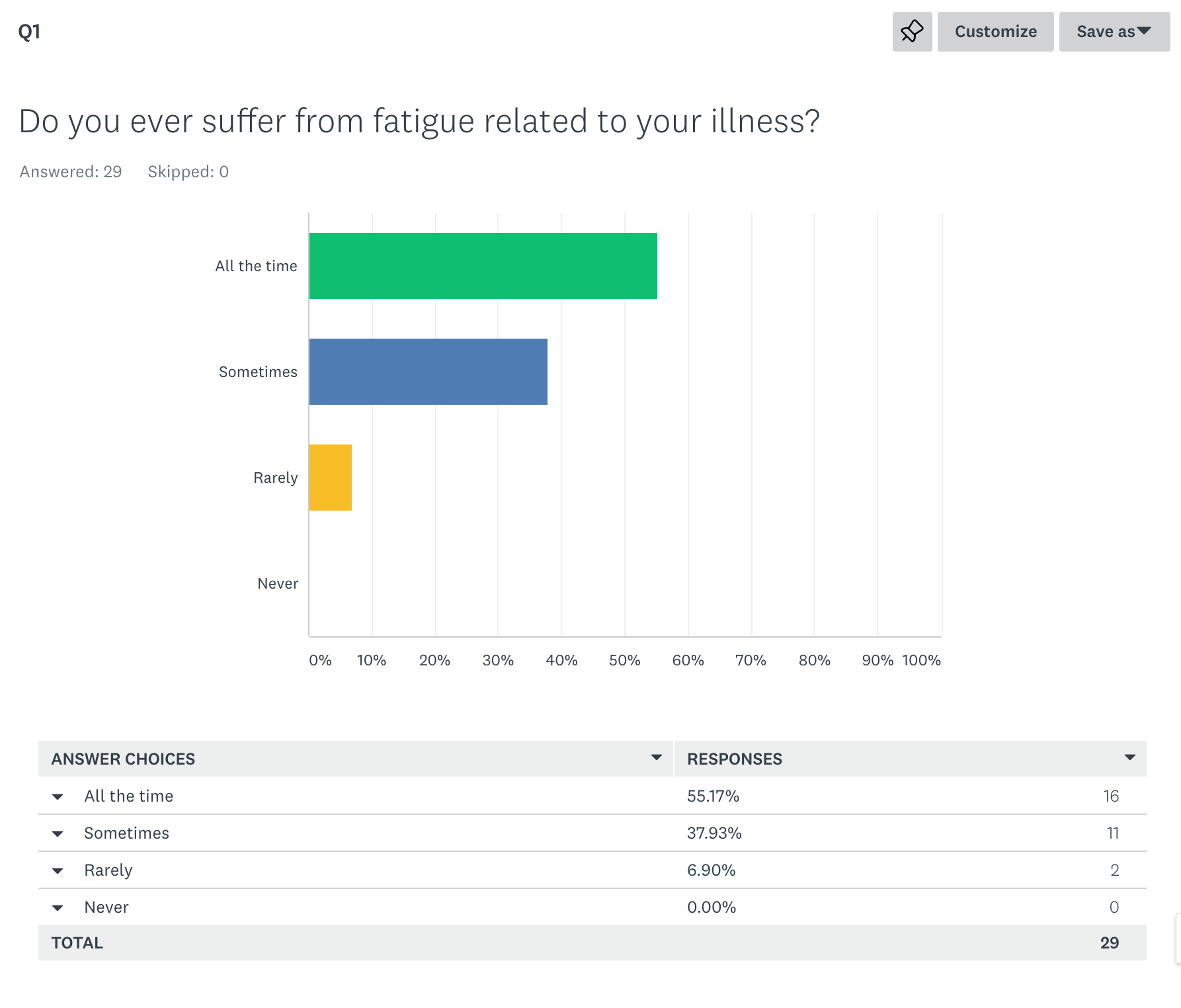 This shows that every single person that has taken this survey has experienced fatigue. Although not everyone experiences this all of the time, a whopping 55% of people do.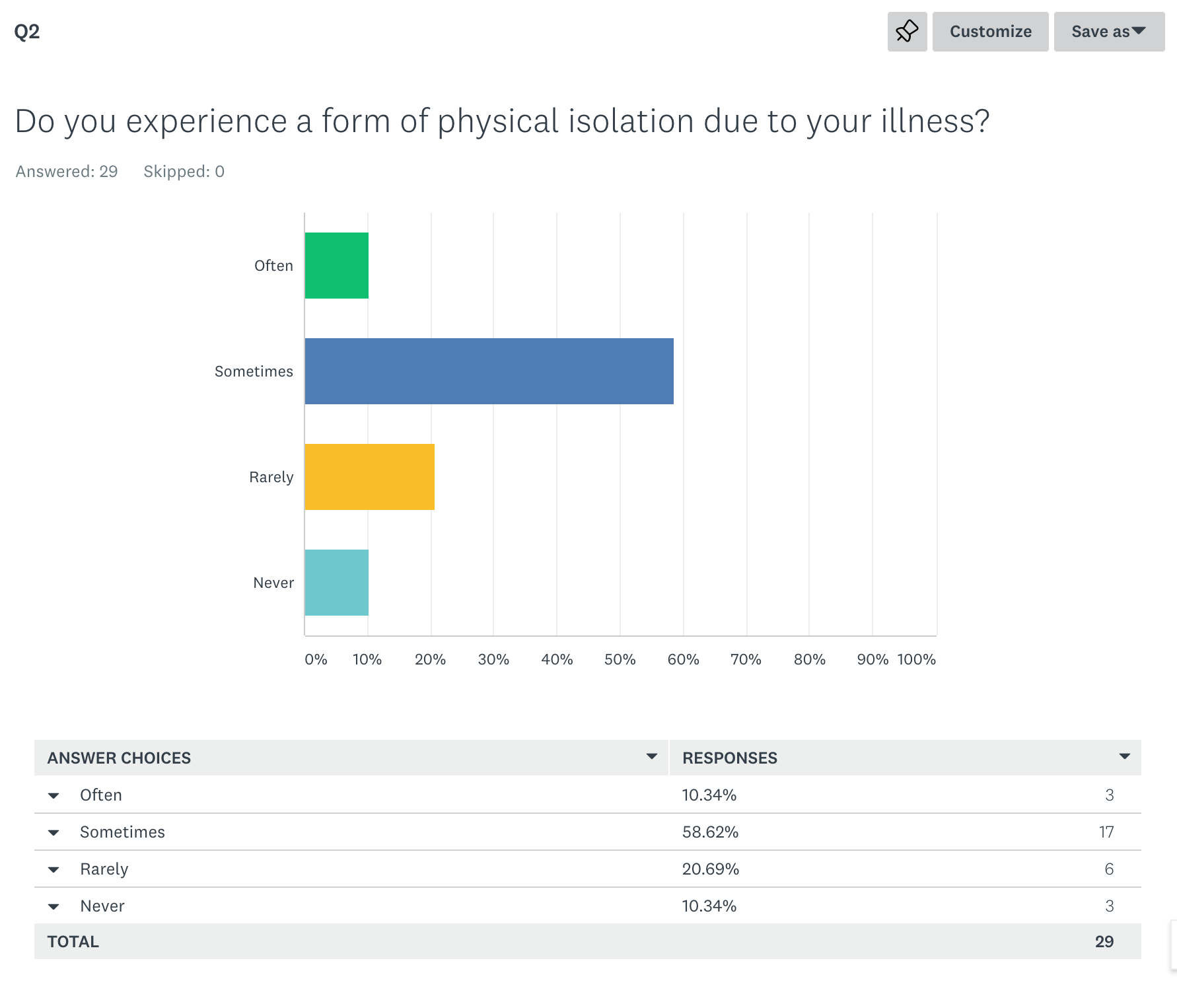 Physical isolation can seem to be an obvious assumption with a disease such as Inflammatory Bowel Disease, due to having to go to the toilet often. However, this symptom is only one of many, and this can sometimes only occur during a flare. Other symptoms that could cause physical isolation are high pain levels, weakness, and fatigue. Another common one is the anxiety, as some social situations can be very daunting with any of those symptoms occurring.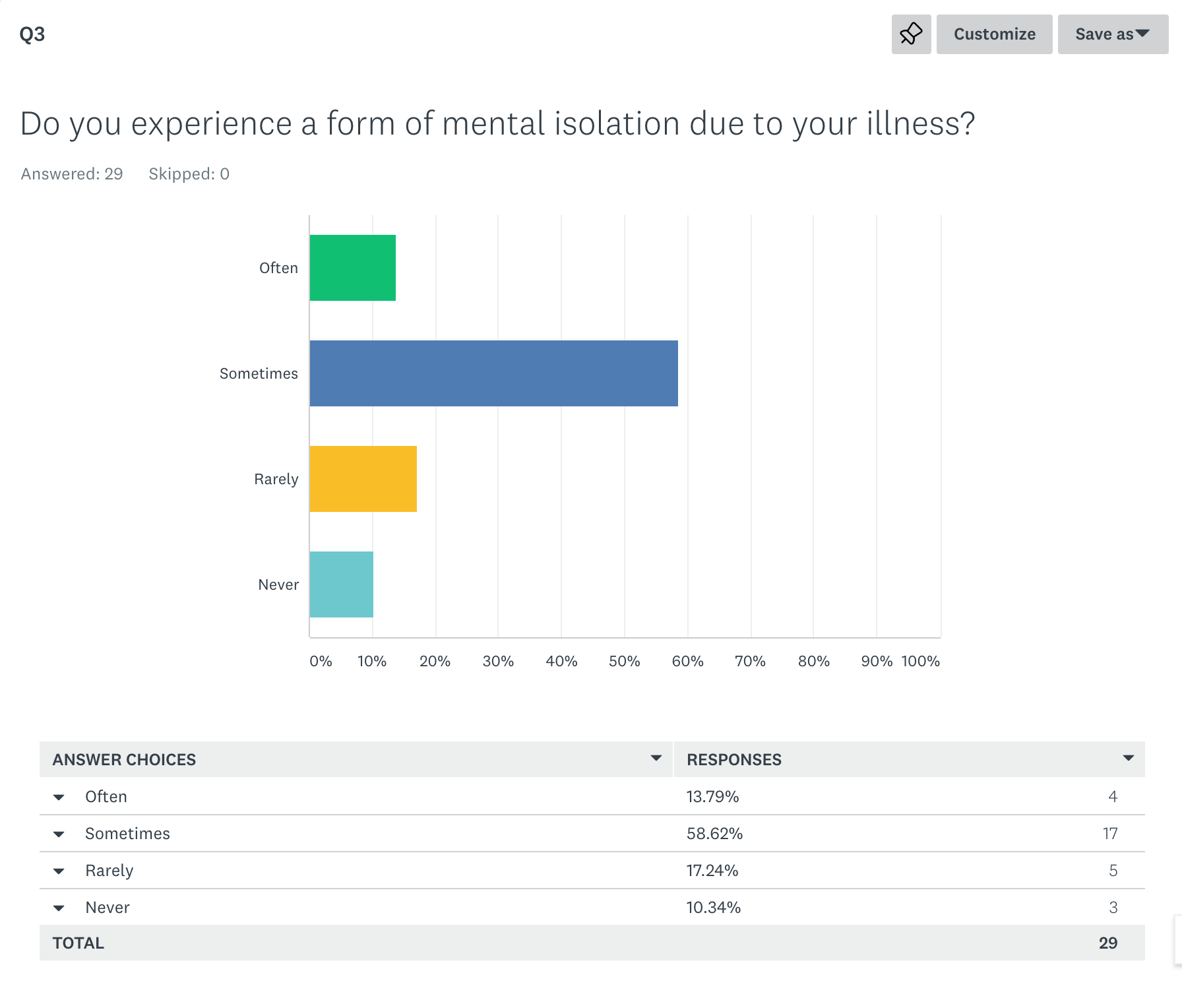 The occurrence of mental isolation can be common due to the physical isolation. As well as the invisible nature of the disease, it is very difficult to explain to other people, for other people to understand what you are going through, and in some cases, people do not believe what you are experiencing to be true. We can see that 90% of people have experienced mental isolation, which shows the real need for communication and community.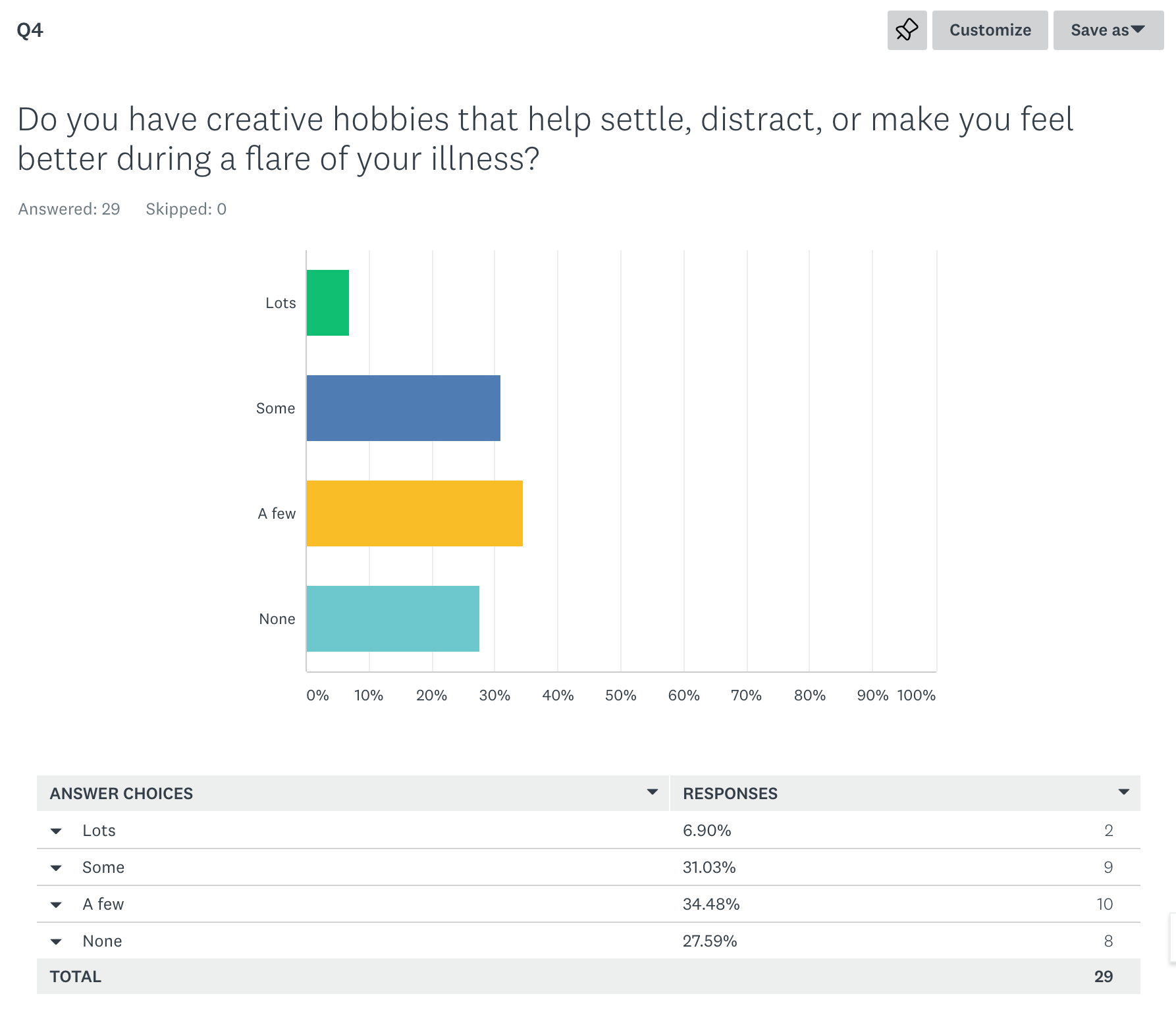 Starting to get a feel for people creative hobbies as a distraction and aid from those illness, I was not expecting quite as many people to say they have any. With over 70% of people saying that had at least one creative hobby they find helps them during this time, we can see that people are already using creativity in their favour. This shows that my project will not be sharing new information to most patients that creativity is great for their wellbeing during this time. More than anything it will be encouraging them to use it more or continue to use it, and communicate within a community about it.

The full list of responses:
Jigsaws, baking
Colouring books, Netflix, reading, arts and crafts
When well enough Playing Xbox, listening to audiobooks

Puzzles, reading, cooking/baking

Knitting, colouring, reading (if I can concentrate)

Seeing the grandchildren

Reading, art

Electronics, cycling, writing computer games and mods, reading
Writing

Reading, jewellery making (I have a small business) and macrame

Photography
Gardening, painting , baking
Writing
Writing studying and colouring
Diamond painting. Yoga. Qigong
Crafting
Reading
Working(designer), guitar playing, gardening

Crafting, painting, drawing
This has really helped to show me what people are classing as their "creative hobbies". This will also help guide me to design some of the monthly creative themes for this project.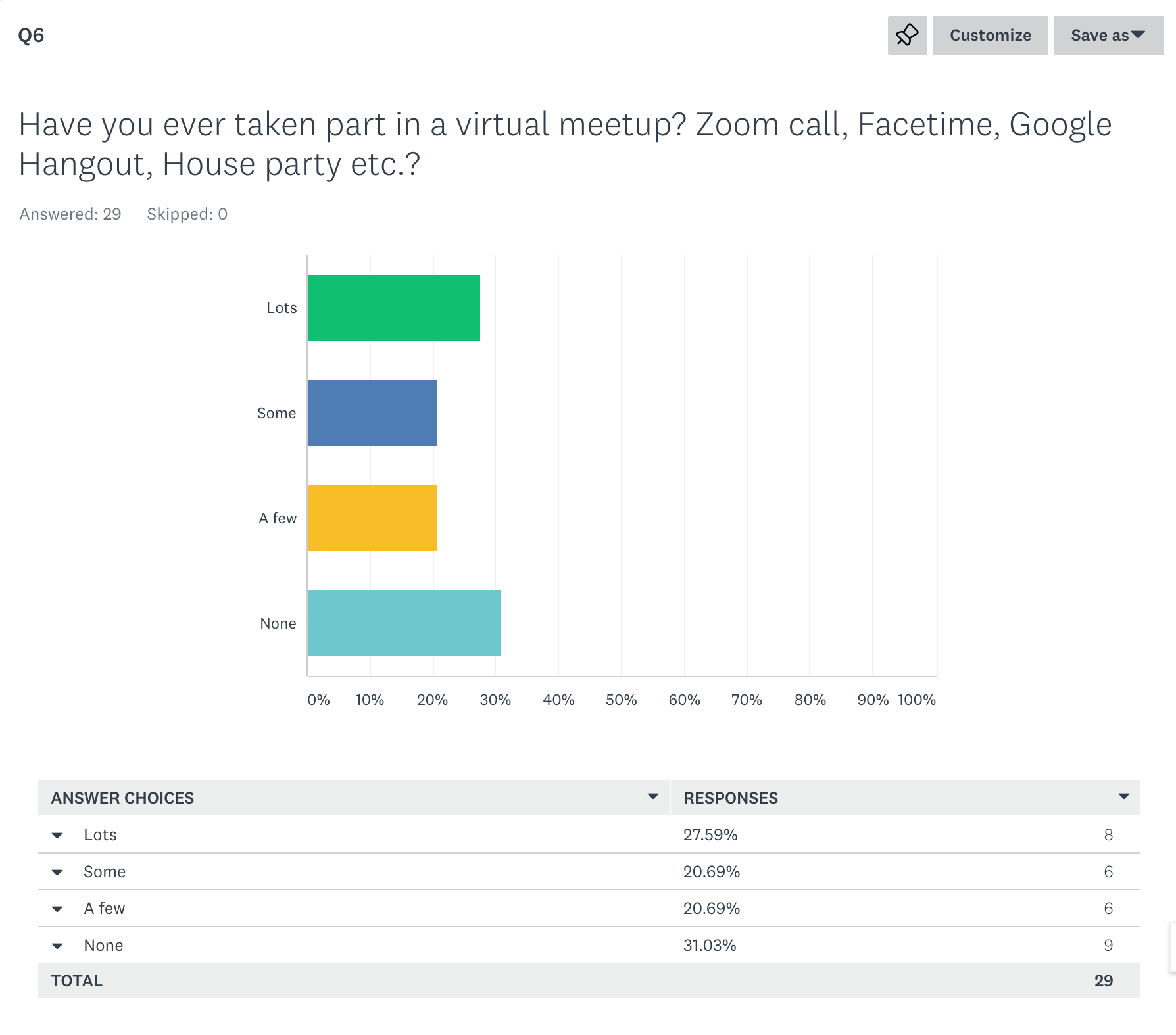 During this very difficult year, we have seen a rise in the use of virtual communication. However, we have been using it for years prior; some more than others. Due to this project being fully digital, I wanted to get a sense of who was already using the communication tools that I could possibly be used for the virtual workshops for this project.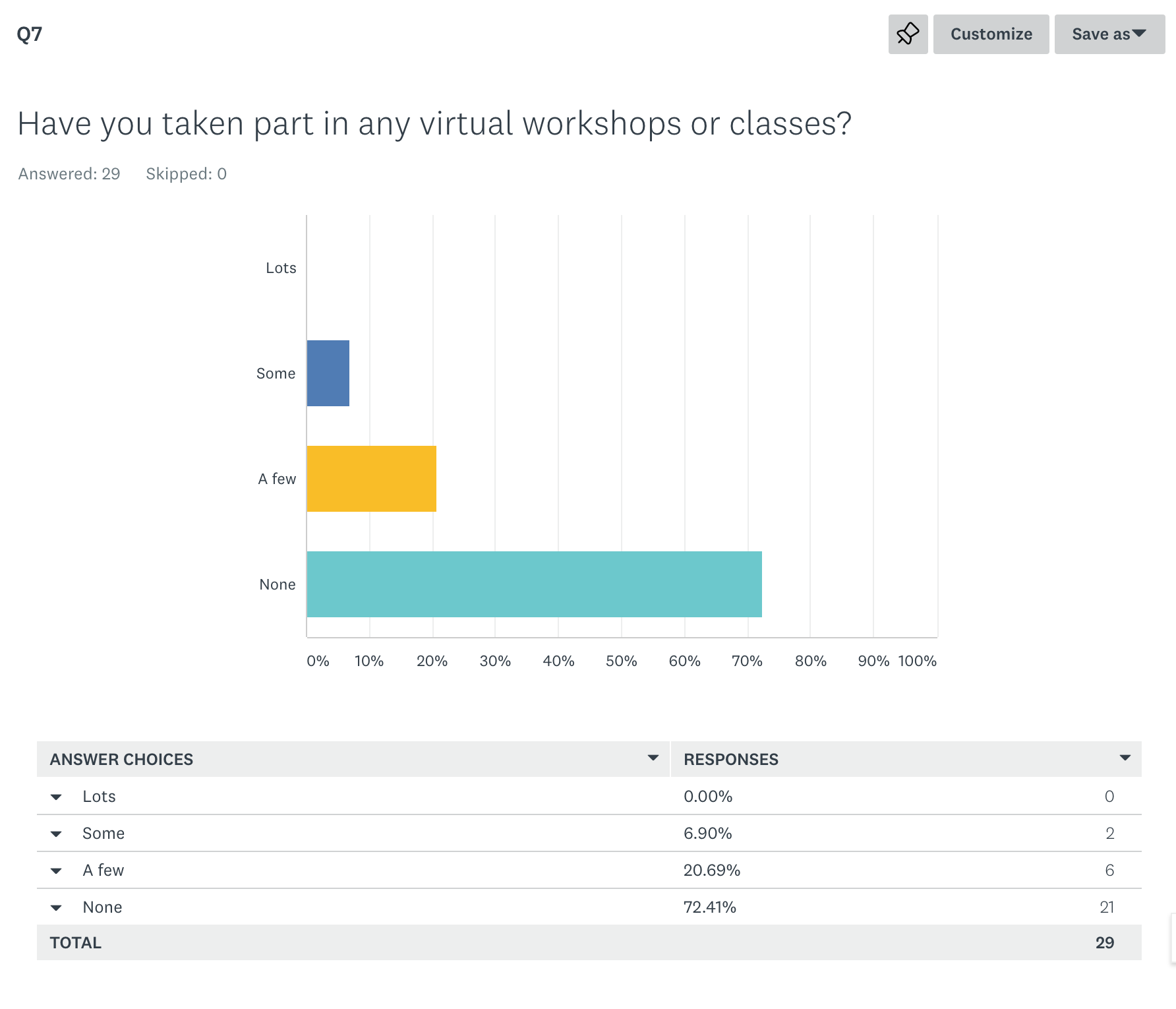 Once again, during this pandemic, we have seen the rise of classes, workshops, and activities being taken to the virtual space. I understand that not everyone has done this prior, and it is more likely than not the younger generation of people in this survey suggesting that they have taken part in online workshops, with this being only 28%.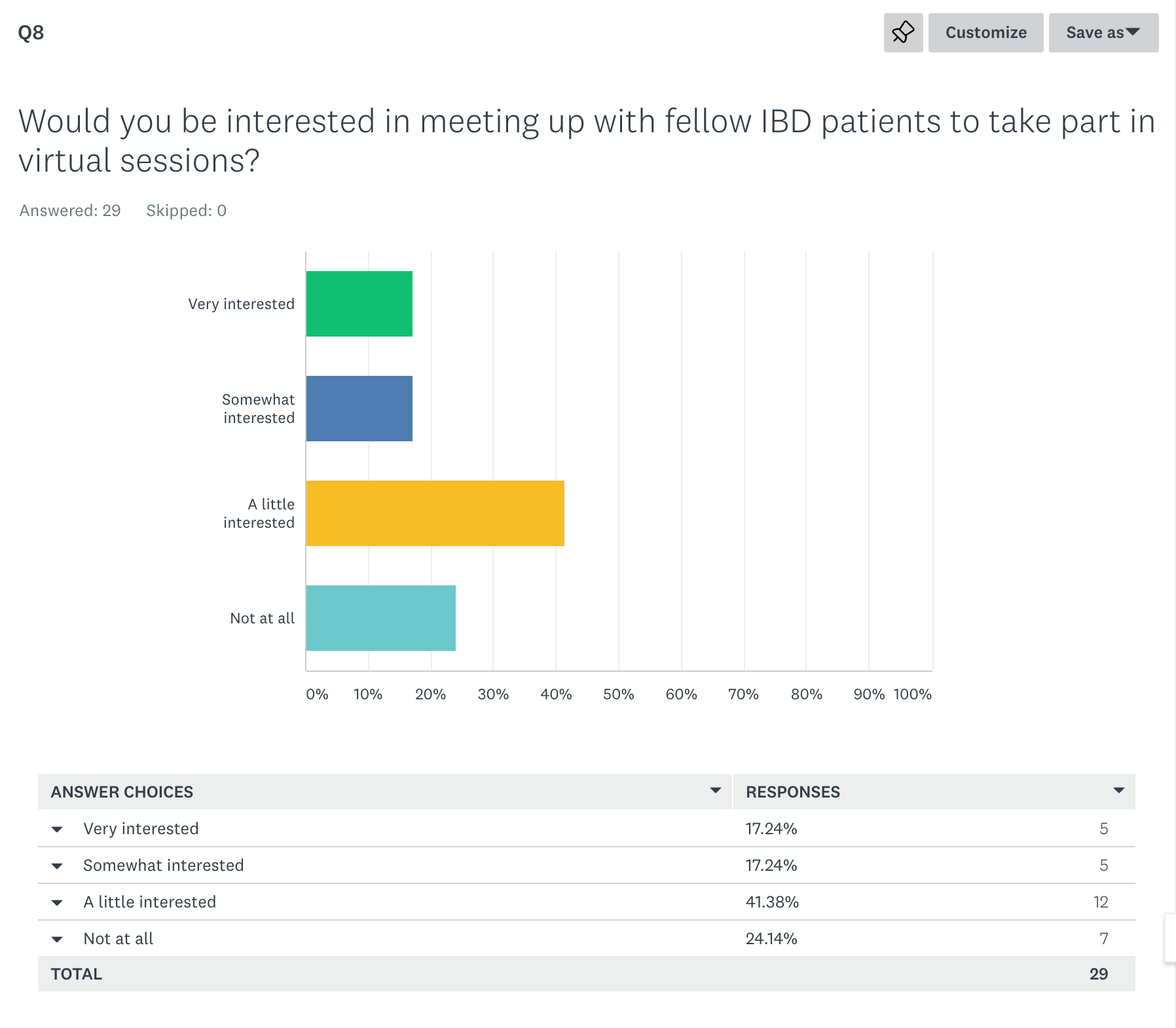 Although we have seen that video communication is something that isn't used that regularly, people are still interested in using it to talk to fellow IBD patients. Here we can see the opportunity to get people together to discuss a topic that they all have in common.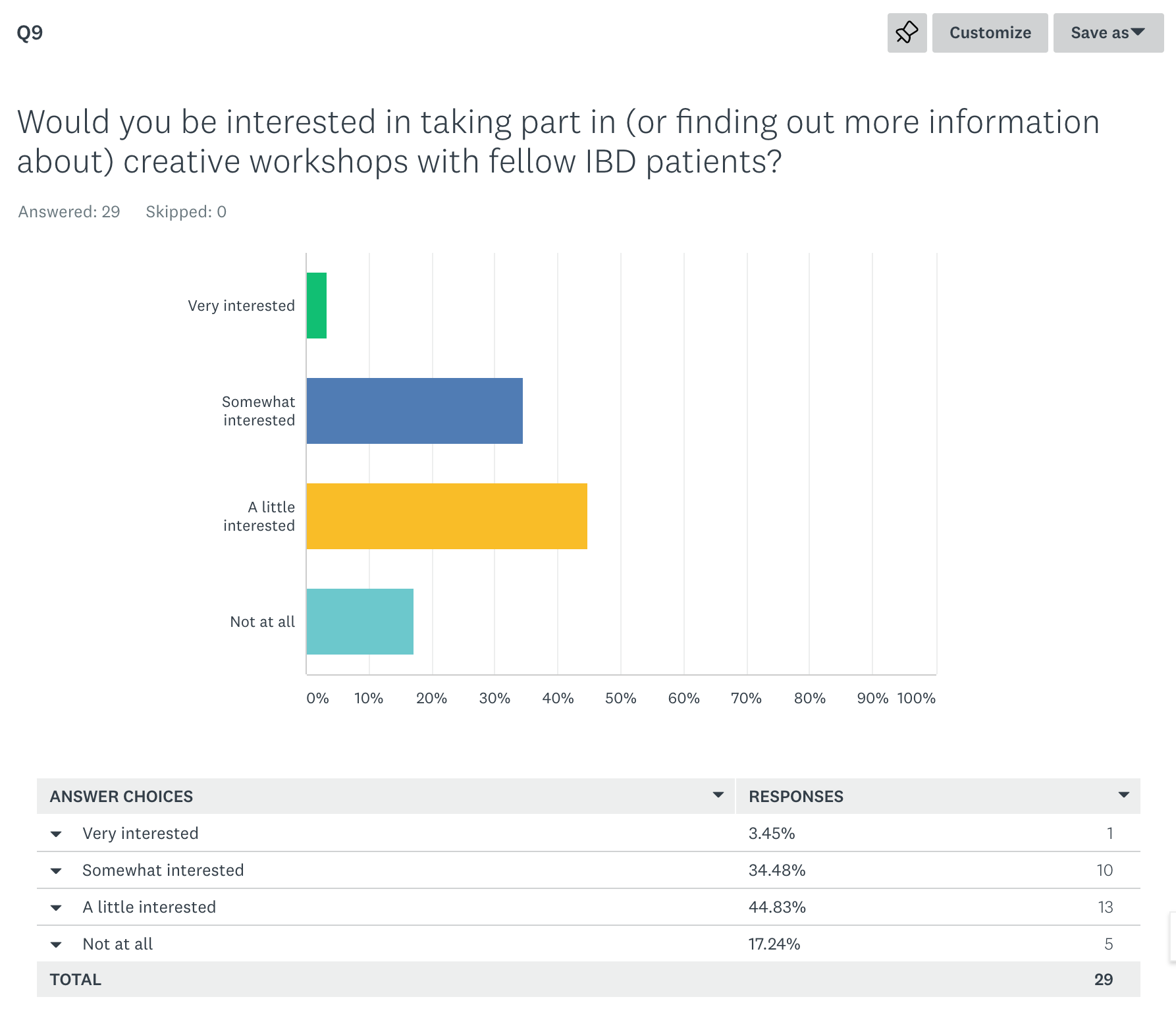 Finally, I wanted to see whether people would be interested in taking part in creative workshops. As without a positive response from this, my project would not be valid. The responses that I did get shows that there is a clear interest in these workshops. Surprisingly, there is more interest in the workshops than there is in the video conversations with fellow patients (as found in the last question).

My last question allowed people to leave their email so I can share more information with them if they are interested.
Overall, this survey was extremely useful and insightful to this project. The assumptions that I had been making now have evidence to back it up. This allows me to show strong points as to why this project is needed and why it would be so successful.