I have yet to plan out some of the virtual workshops that will be taking place. I have mentioned that I want to design monthly themes of different creative areas that can be linked with the products. I want to design several monthly themes to show examples of what I hope to do with this project. As well as this I need to plan out some of the first activities that I can use for upcoming workshops that I will be running voluntarily. 
I wanted to ensure that I am taking into consideration all of the feedback so far. Participatory research was very important to this project as this is a project aimed to aid the target audience. With their feedback, ideas and experiences all shaping this project massively. The survey, as well as responses from the Facebook conversation starters, have shown me the most popular creative hobbies.
Crafting

Photography

Yarn & Thread

Pencil & Paint,

Food, 

Seasonal Crafts
I have also had a look into similar projects and companies that are running workshops to see what activities they are offering. 
Creativity Heals – This project is very similar to mine. They want to inspire the use of creativity to heal. However, this project focuses on emotional trauma in children. They focus on three pillars, dance, art, and music. 
Do-it-yourself – This is a project that aims to get people isolated due to the covid pandemic busy with a new hobby. From wreath-making to costume drawing, there are a range of workshops to take part in.
Crafting (paper crafting, jewellery making, collage) – From gathering scraps from magazines to encouraging participants to go out for a walk or even to the garden sometime prior to the workshop to gather leaves, branches, or flowers for a collage workshop. These workshops and activities will inspire people to use what is around them to keep busy.
Photography – Taking in the world around them using their smartphone. This will show participants that you do not need to spend lots of money on a professional camera to be able to start a new hobby. This allows people to take in the world around them and see it from a new perspective. With a range of tasks and challenges to take part in, inspiring those that are novices to experts in the creative field. This could be 'a photo a day' challenge, 'a day in the life of', or simply starting question conversations that inspires those to respond in image form. 
Knitting, crochet, embroidery – This could be a beginners session that teaches you the basics for all three, by taking part you could learn a new skill while also helping other people learn. If you are skilled in knitting but never played around with crochet or vice versa, with the materials you already have you can learn something new with the help of the workshop leader and fellow IBD patients. For the inclusivity of intermediate or advanced skilled people, this may also include the exchange of patterns, tips, tricks and homework for each other. After the workshop, you can go away and try out something you have learnt from the session and share your outcome in the community once completed. 
Email newsletters can include patterns, tips, and videos shared. With the future subscription boxes including a ball of yarn and a crochet hook or knitting needles. 
Painting, drawing (adult colouring) – Following along with some still life during live workshops, or being given some simple items to attempt at drawing or painting may be a great step to get begginers involved. With advanced creatives can share tips and tricks, advice for those just starting out.
Cooking, baking – Sharing easy recipes for when you're not feeling well but need to eat, all the way to baking a theatrical cake for a live bake-off workshop.
Seasonal Workshops – From Easter to Christmas crafting, in the months leading up, participants can start getting in the spirit with relevant workshops. 
Artwork
I needed to create some visuals for these workshops so I can start making examples of how I would go about marketing these themes. I have seen a number of assets and icons that I have taken inspiration from, such as below. Bold block colours that illustrate the activities that will be taking place. These are very simple illustrations that get across the message in a fun light-hearted way.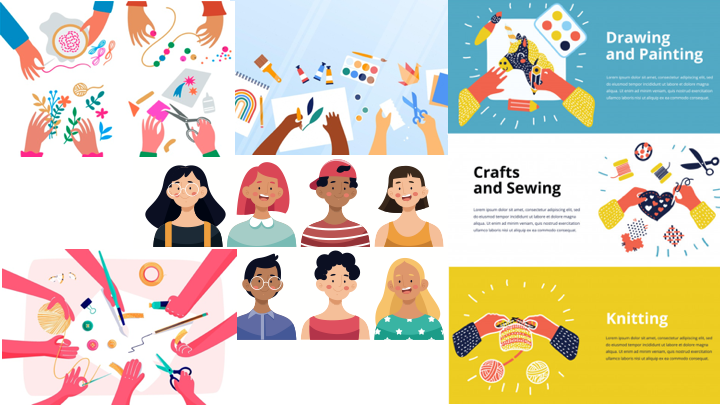 I have started sketching up some initial shapes that I believe will be great use to my project, as well as some avatars that could be used to explain how the workshops could work.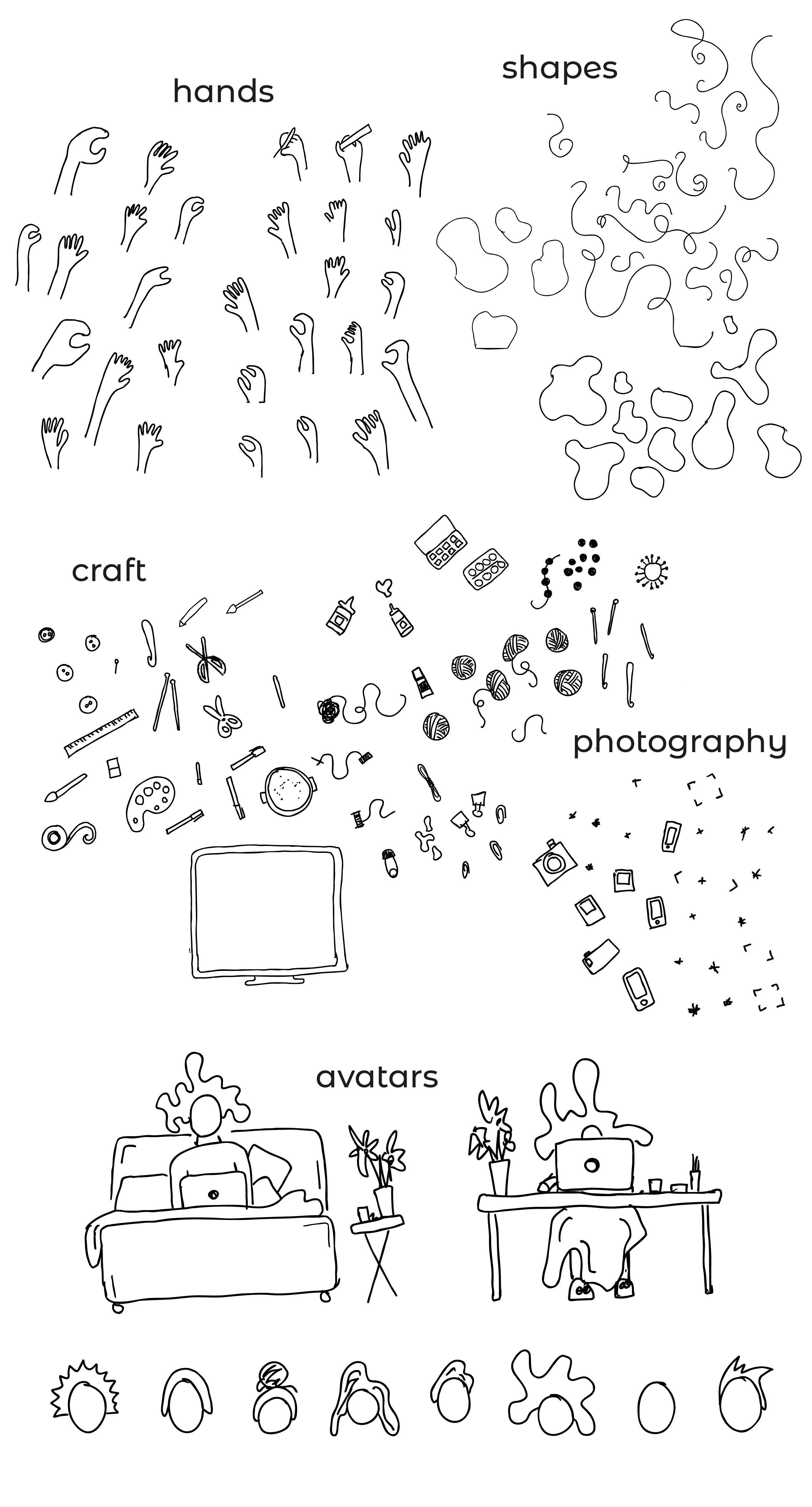 These illustrations have turned out really well. I think they could help me a lot with my project as I further develop the branding. I now need to put this in place with the current branding and see how my colours and gradients would work alongside these.
I think I really need to solidify a colour scheme for these to be successful. But I am having a lot of fun with creating these assets and hope to create some more.